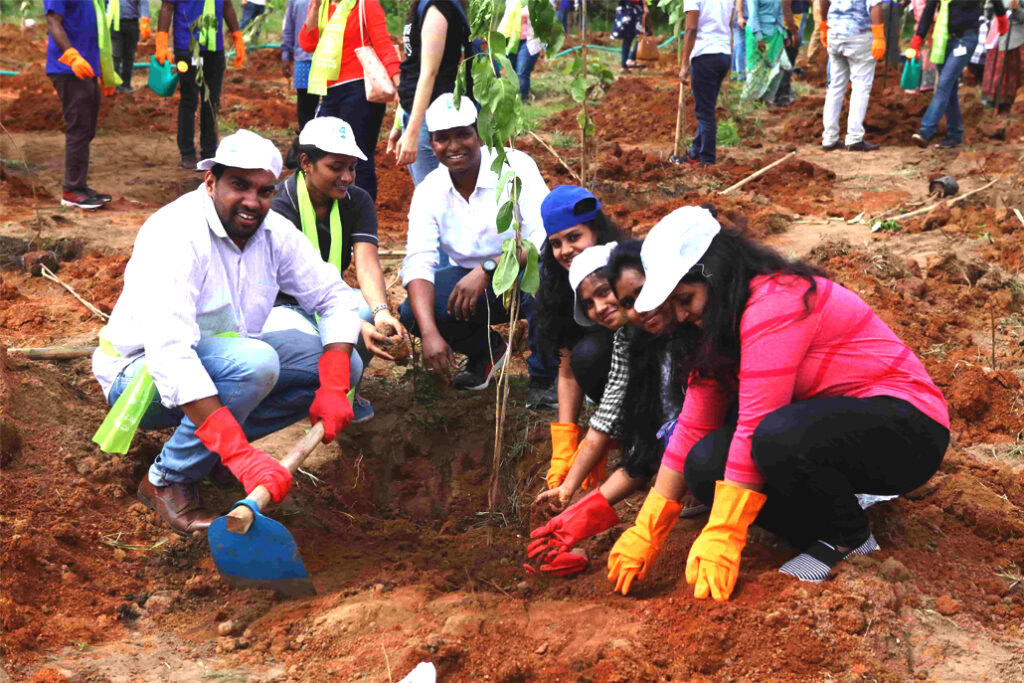 T-SOCIAL IMPACT GROUP'S INITIATIVE FOR HARITHA HARAM
As part of the Haritha Haram, we have planned to organize a Mega Plantation drive on 31st August with a goal to plant more than 15,000 saplings in the IT corridors of Hyderabad. We have Government bodies, Public & Private Sectors and Academic Institutions join hands to run this Mega Plantation drive of the City, which seeks to build a novel culture, strengthen awareness locally, and socialize actions that we must together take up as responsible citizens to establish a Green cover, wherever plausible.
Our Honorable Chief Minister, Mr.K.Chandrasekhar Rao, leading advocacy on the environmental front, is really passionate that we build action that would strengthen citizenship behaviours on Climate Change and that Green enthusiasts will be role models to paint this part of the earth-Green.
We cordially invite all corporates to participate actively in this drive and partner with us to mark this as a great occasion.
Chief

Guests

for

the

event

are:
Sri Jayesh Ranjan IAS Principal Secretary IT, E&C, I&C.
Smt. Priyanka Varghese IFS, Officer on Special Duty (OSD) at the CM's Office,
Smt. HariChandana IAS, Zonal Commissioner (West Zone) GHMC
Sri Srinivas Kollipara, CEO of T-Hub.
Key

details

of

the

Mega

Plantation

Drive:
Timings: 7:00 am to 10:00 am
Inauguration Location : Gachibowli Stadium
Planting Locations : Hyderabad Central University(Block), NITHM-Gachibowli(Block), Botanical Garden Road-Kondapur(Avenue), Hafeezpet-Miyapur Road(Avenue), Gachibowli-IIIT road(Avenue), Gopanapalli-Gowlidoddi stretch(Avenue)
Saplings are provided Free of Cost by GHMC.
Maintenance cost-Rs.350/- per sapling per year (It includes watering, adding fertilizers/pesticides, Replacing plants-if required)
Branding

Opportunities

for

Corporates:
For every 100 plants, Sponsoring company Name/Logo can be displayed on a Placard.
Companies can display their Name/Logo on the tree guards. Each Tree guard costs about Rs.220/-
Payments can be directly made to 'COMMISSIONER, GHMC' (Cheque/ DD) and they will get the vendors to Geotag the plants, monitor the saplings growth and extract reports)
Registration

process

for

individuals/

group

of

individuals:
Decide and confirm the number of individuals participating in the event and Number of plants you want to support (minimum of 10 saplings).
Issue a check to 'COMMISSIONER, GHMC' for the same amount (no. of saplings*350)
Registration

process

for

corporates/

companies:
Decide and confirm the number of Volunteers participating in the event and Number of plants your company want to support (minimum of 100 saplings).
Send a signed and scanned copy of a letter of intent to csr-cell@telangana.gov.in
Contact Us at csr-cell@telangana.gov.in/ 9948703646
| | |
| --- | --- |
| Beneficiary Bank name | State Bank of India |
| Account Type | Current Account |
| Account Name | Commissioner, GHMC-CSR |
| Account Number | 62471564038 |
| Branch name | Municipal Complex Tank Bund |
| Branch Address | Municipal Complex Tank Bund Road, Hyd-63 |
| MICR Code | 500004039 |
| IFSC Code | SBIN0020432 |
| Branch Code | 20432 |
| Type of Bank | Nationalized Bank |
| Tan No | HYDG08342F |
| PAN No | AAALC0877H |
Telangana

Ku

Haritha

Haram
Telangana Ku Haritha Haaram, a flagship programme of the Telangana Government envisages to increase the present 24% tree cover in the State to 33% of the total geographical area of the State. The thrust areas to achieve the above are two-fold; one, initiatives in notified forest areas, and the other, initiatives in areas outside the notified forest areas
Objective

of

Haritha

Haram
The objective is sought to be achieved by a multi-pronged approach of rejuvenating degraded forests, ensuring more effective protection of forests against smuggling, encroachment, fire, grazing and intensive soil and moisture conservation measures following the watershed approach.
Achievements of Telangana Ku Haritha Haaram